37 Home Remedies for Lice - Find Out Which Ones REALLY Work!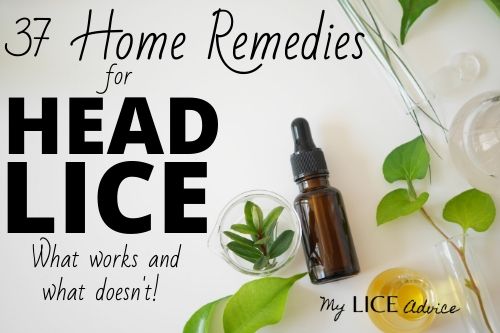 Discover the top home remedies for head lice and find out which remedies kill lice and which home remedies can actually make lice worse!
You've discovered head lice in your home, and now you want to get rid of it--FAST! 
Many parents' first instinct is to run and buy a popular lice treatment off the shelf... 
but after trying a few rounds of store-bought lice treatments, they discover that these lice treatments from the store don't work! Perhaps you've already discovered this for yourself.
Your next thought might be to try your hand at a home remedy, and with today's technology, hundreds of home remedies are only a Google search away. Home remedies can be a good alternative, but it's important to be careful.
In reality, there are only a few home remedies that actually help with head lice infestations, whereas there are hundreds of home remedies that will be a complete waste of your time. 
There are even some home remedies that can make head lice worse!
So before trying just any home remedy, take some time to learn which ones work and which to avoid altogether. 
Let me introduce myself...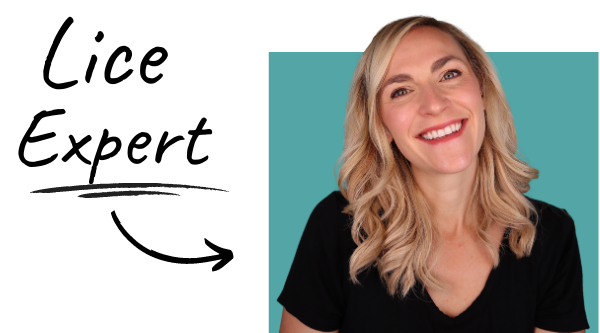 Hi there! I'm Theresa, I'm a lice expert, lice coach, and Registered Nurse. I help people with lice every day! You can get rid of lice in ONE DAY at home by using the same proven professional technique that I use in my lice center.
Just follow the step-by-step videos and be done with lice by the end of the day.
Why Is It So Hard to Get Rid of Lice?
Now that you know what you're looking for I want to talk briefly about your biggest worry (that your child actually has lice) and the question I get asked by parents around the world that have been battling lice….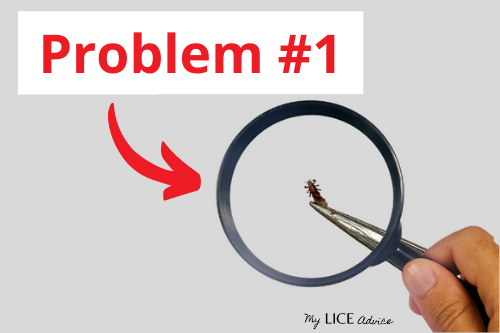 Parents around the world are all asking me the same question…. "Why is it so much harder to get rid of lice now?"
Lice have become immune to everything that used to work in the past. Perhaps you remember your mom using a typical lice treatment or mayonnaise and that doing the trick. The new strain of head lice is no longer killed by those treatments, that's why lice today are termed by people, "super lice," because they are immune to those treatments. 
I've cured thousands of people of lice in my lice center and let me tell you, I don't do it with over-the-counter lice treatments.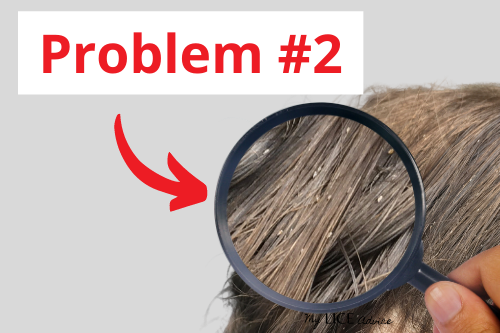 Most people struggle with lice because they focus all of their attention on killing lice bugs and not enough attention on GETTING RID OF LICE!
If you want to get rid of lice you have to address all 3 of the problems of lice:
Lice Bugs
Lice Eggs
Getting Lice Back
The best way to get rid of lice is to tackle all 3 of these problems at the same time, which is what I teach in my step-by-step video system.
So, if you discover your child HAS lice, don't panic. Just head over to the video system. Follow along with the videos and you'll be done with lice by the end of the day.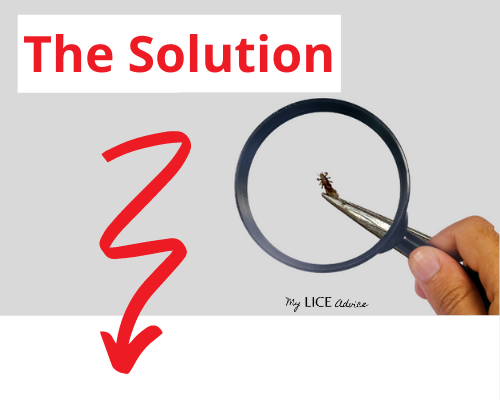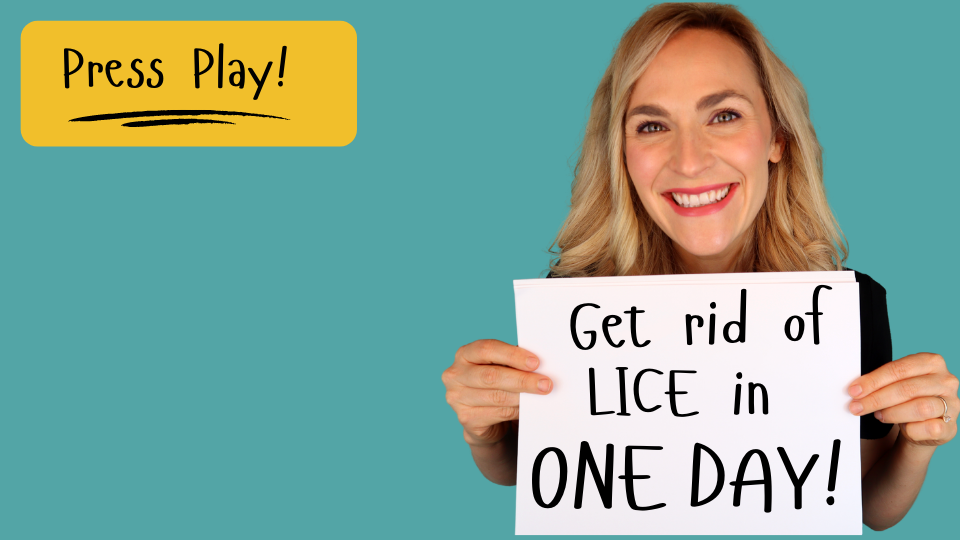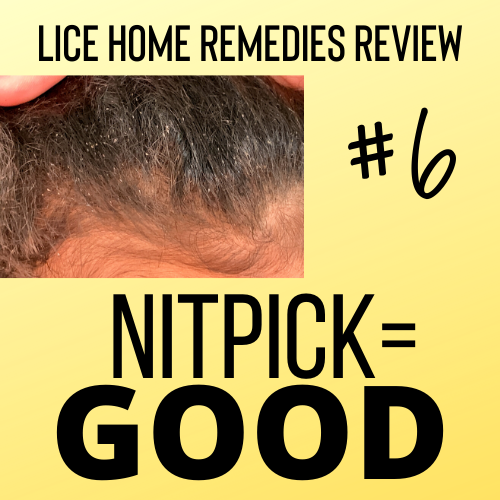 Best Home Remedy #6: Nitpicking = Good
If you're new to lice, nits and lice eggs are the same thing in this article the two words will be used interchangeably.
Nit picking is when you grab a lice egg (also called a nit) between two fingers, slide it down the entire hair strand, and throw it into the garbage. Nitpicking can also mean picking lice bugs out of your child's hair with your hands.
Pulling lice eggs out of your child's hair will prevent them from hatching and reinfesting your child's head. Lice eggs MUST have the heat of the head in order to survive, grow, and hatch. Remove a lice egg from the head and throw it in the trash, and you've effectively killed it.
If you are a meticulous and patient person, this method might work for you. This is a method you can do without using any other treatment or home remedy. But, man, this is going to take you a very long time. Most parents that "nitpick" spend an average of 6-12 hours nitpicking hundreds of lice eggs out of their child's hair.
I don't recommend nitpicking as my primary means for getting rid of head lice, but if that's what you'd like to do, here are a few tips:
Tip #1: Kill adult lice first. It's a lot easier to pick dead lice than it is to pick live lice.
Tip #2: Nitpick DRY hair. Nits are easier to see and remove in dry hair.
Tip #3: You're likely to miss a lot of nits in your first go-around on the head, so plan on nit-picking, checking back and nit-picking some more for a few weeks.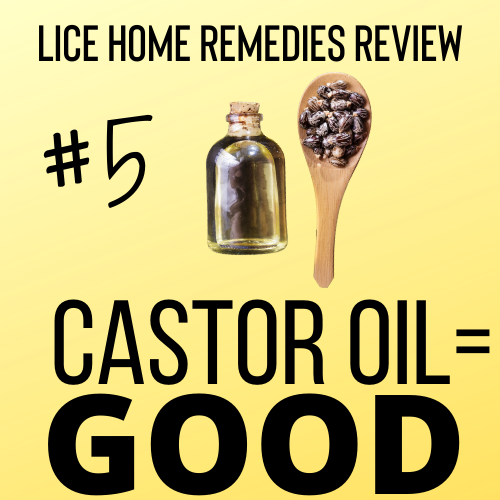 Best Home Remedy #5: Jamaican Castor Oil = Good
After reading that Jamaican castor oil could "miraculously" kill lice, I was curious to see if it works. Again, this one wasn't well studied in lab experiments, so I tested it out in my homemade lab. Here's what I found:
This was one of the more dramatic and quick "lice killing" home remedies I've seen. I left the oil on the hair for 30 minutes, and the lice all fell off and appeared to be actually decomposing.
Make sure to apply it to DRY hair because applying oil to wet hair makes it less effective since lice exposed to water go into survival mode.
There are a few disadvantages to Jamaican castor oil, though:
#1: It will stain everything yellow. Really, everything. It also created a dark yellow ring in my sink, which took some serious elbow grease to clean up.
#2: Greasy hair. If you have fine hair, this will be a beast to rinse out.
#3: It'll dye your hair. If you have light-colored hair, this will give it an orangish hue for a few days. On the flipside, if you have dark hair, this will give it a beautiful glow.
While Jamaican black castor oil works on head lice it isn't going to kill nits or prevent them from hatching, so plan on repeating this same process every 5 days for 3 weeks.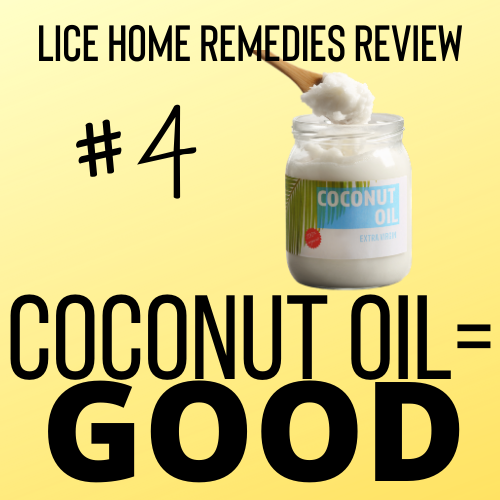 Best Home Remedy #4: Coconut Oil = Good
Coconut oil is one of my top picks for home remedies because it is one of the more effective home remedies out there and it's also great for your hair. 
If I didn't know my technique to get rid of lice in one day and I had to pick a home remedy, then I'd pick coconut oil, because it is one of the more effective home remedies out there and it's great for your hair. And, since you're going to have to retreat every 5 days for 3 weeks, you might as well have healthy hair.
Coconut oil alone kills about 80% of head lice, studies show. 
The main downside about coconut oil is that you have to leave it on the head for a long time. I recommend leaving it for at least eight hours. 
Just like every home remedy and lice treatment, coconut oil has no effect on lice eggs, so you'll need to try to remove as many from the head as possible, and retreat every 5 days for 3 weeks. 
Read my full article and tutorial on using this home remedy at Coconut Oil For Head Lice Tutorial.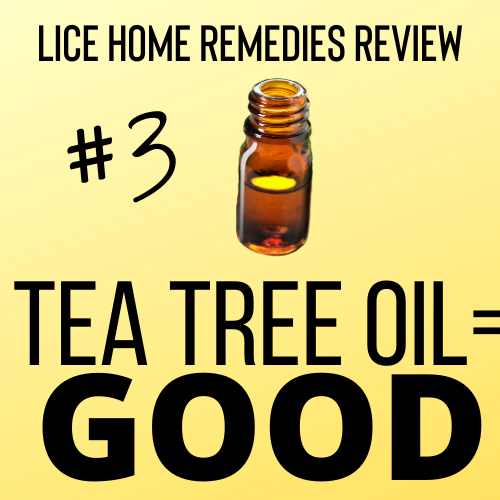 Best Home Remedy #3: Tea Tree Oil = Good
Tea tree oil has a well-documented record of effectively killing lice.  One study compared tea tree oil to traditional pesticide treatments. The study showed tea tree oil killed tons of lice, whereas the pesticide treatments only cured about 25% of infestations.
Don't, however, run to your hairdresser and buy tea tree shampoo. That will not kill head lice! Tea tree will only kill lice when used in high concentrations (much higher than tea tree shampoo contains). However, do not apply tea tree oil directly on your child's scalp. It can cause burns and other dangerous reactions. An essential oil like tea tree oil should always be diluted with a carrier oil. (I review this in detail in my Tea Tree For Lice Tutorial).
Before grabbing tea tree oil, you should know that many people believe that lice are becoming immune to tea tree oil in the same way they have become immune to pesticides. If you've tried tea tree oil and it hasn't worked for you, this might be why. However, this home remedy still nears the top of the list in best treatments because when it does work, it works really well. Most of your head lice will be gone. 
As I've stated before tea tree oil is not going to kill lice eggs. Lice eggs WILL hatch after a tea tree treatment, so you'll need to do the tea tree regime every 5 days for at least 3 weeks.
I outline exactly how to kill lice with tea tree oil in my article Tea Tree Oil For Lice: How to Kill and Prevent Lice Using Tea Tree Oil.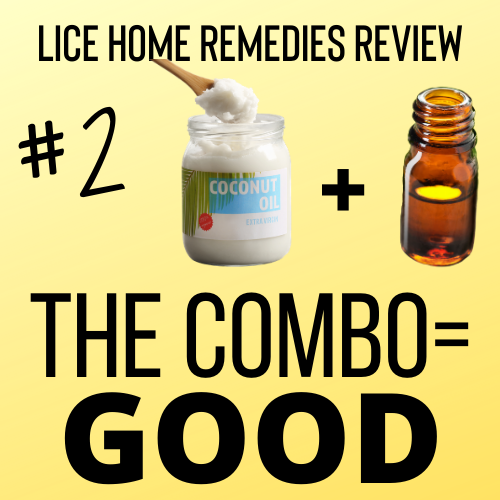 Best Home Remedy #2: Coconut Oil and Tea Tree Oil Combo = Better
Hmmm...which should you choose, coconut oil or tea tree oil?
Mix the two together and…
Ta-dah! You have a powerful lice-killing combo that packs a punch! It'll kill a lof of adult lice. Unfortunately, it won't kill any lice eggs (as I've said before nothing kills lice eggs except my technique), so be sure to re-treat every 5 days for 3 weeks.
How much tea tree should you add to coconut oil? 
Check out my article Tea Tree Oil to Kill Lice Tutorial to learn how.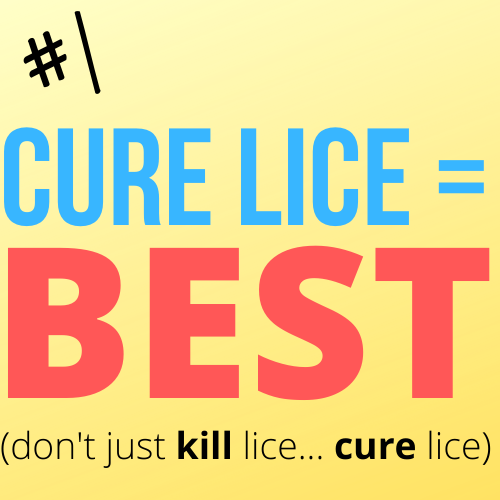 Best Home Remedy #1: Don't Just Kill Lice; CURE Lice!
Getting rid of lice quickly is not just about killing lice; it's about curing lice. In my technique, you kill all the lice and the lice eggs at the same time, which is the key to getting rid of lice quickly. 
My technique gets rid of lice fast and permanently! And the permanent part is the most crucial. Most people that use lice treatments and home remedies go around and around with lice for a very long time. The best way to get rid of lice is to kill every lice egg and every lice bug in one session, which is what I do.
You can learn my technique here.
The BAD, the VERY BAD, and the DANGEROUS
Now that you've seen all my top effective home remedies, you might be tempted to stop reading the rest of this article. Keep going! There are lots of baseless home remedies left to debunk. The next time someone suggests a ridiculous home remedy to you, you'll know the truth and save yourself tons of time.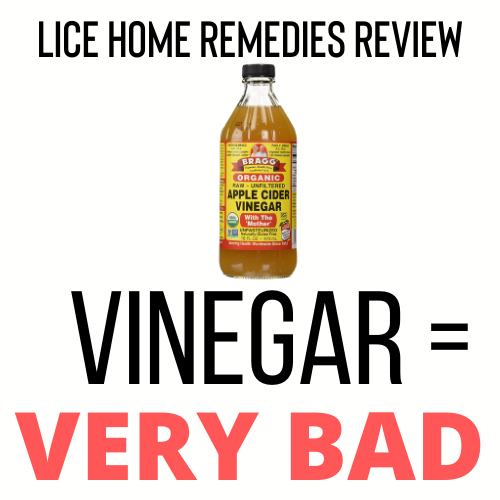 Apple Cider Vinegar = VERY BAD
The first home remedy that needs debunking is vinegar.
Vinegar will not help you with lice. It's going to make your lice problems worse!
Vinegar makes MORE lice eggs hatch, which means MORE lice, not less lice.
One scientific study found that lice eggs immersed in vinegar were actually more likely to hatch! 
A whopping 94% lice eggs soaked in vinegar hatched into baby lice!
In case you're wondering, that's MUCH MORE than those not soaked in vinegar.
Vinegar does not make lice eggs easier to remove.
Some claim that vinegar can loosen lice eggs and nits, causing them to "miraculously" fall off the hair strand. I conducted a full experiment of this theory myself, which I detailed in another article. None of the nits "fell off" as some online claim. I had to manually drag each nit down the entire hair strand using two fingers, which is exactly how you would remove a nit not previously soaked in vinegar. 
Vinegar will not kill head lice. 
Head lice submerged in vinegar for eight hours were no more phased than those submerged in water, showed this study. Vinegar does not kill lice…at all!
Vinegar for head lice is harmful, not helpful
You can read my vinegar article with the full experiment here.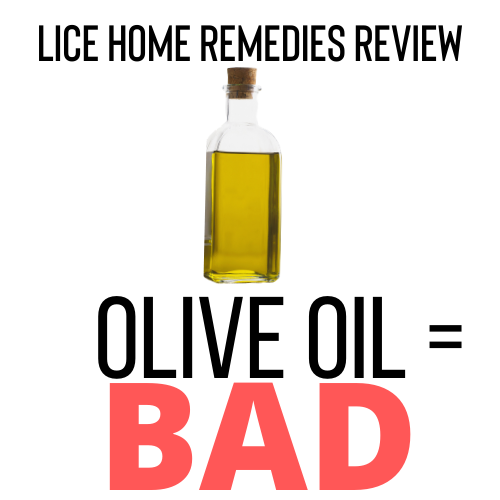 Olive Oil = Bad
Olive oil does not kill lice!
There is a rumor that lice can be smothered by olive oil if you leave it on overnight. This is simply not true. In one study, the hair was completely saturated in olive oil and left to sit for a full eight hours. After eight hours, the hair was examined for live lice.
98% of head lice were alive after eight hours in olive oil. That's almost all of them!
Basically, olive oil will kill two out of every 200 head lice! Not impressive.
Many people are fooled by the olive oil home remedy because when lice are submerged in oil, they go into "survival mode" to conserve energy. This is called "playing dead," and it doesn't last long after the oil is rinsed out of the hair.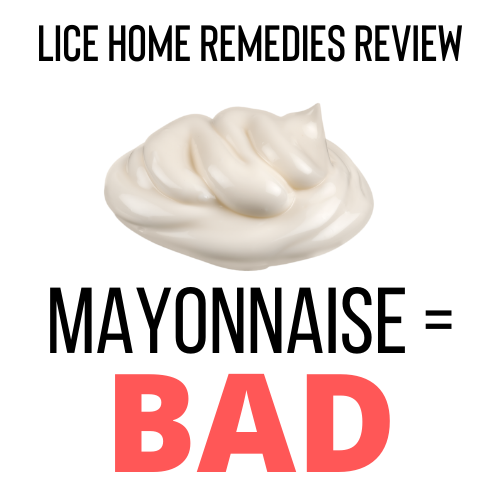 Mayonnaise = BAD
The good ol' mayonnaise-in-the-hair-overnight trick that your grandmother used may have worked for her generation of head lice, but it WILL NOT work for you!
Mayonnaise is one of the worst home remedies today!
The claim that you can smother mayonnaise on your head for a long time to kill lice is totally false. 
This theory was tested in a study. Mayonnaise was left in the hair for eight hours and it had almost no effect on head lice. 
Sure, the lice "played dead" while the mayonnaise was in the hair and for a little while after it was rinsed out, but 90% of the head lice came "back" to life and were as busy as ever.
Mayonnaise may have worked for grandma's generation of lice, but it won't work on yours!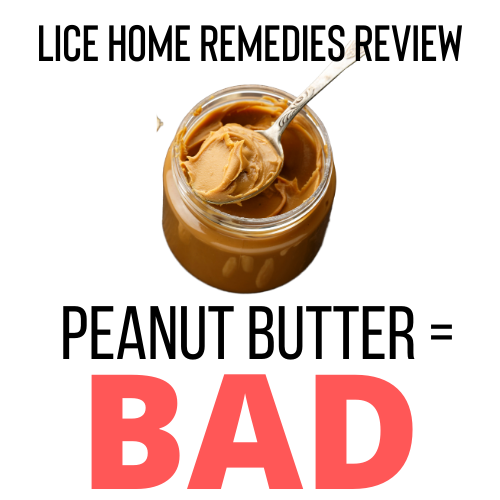 Butter or Peanut Butter = Bad
Melted butter or peanut butter for treating head lice is a very old home remedy. It operates under the concept of "smothering" lice, where you melt butter and leave it on the head for eight hours. 
It's been tested, and it's not effective. Butter killed only a small percentage of head lice and did not prevent lice from laying eggs or prevent those eggs from hatching. Don't waste your time (or your peanut butter) on this one.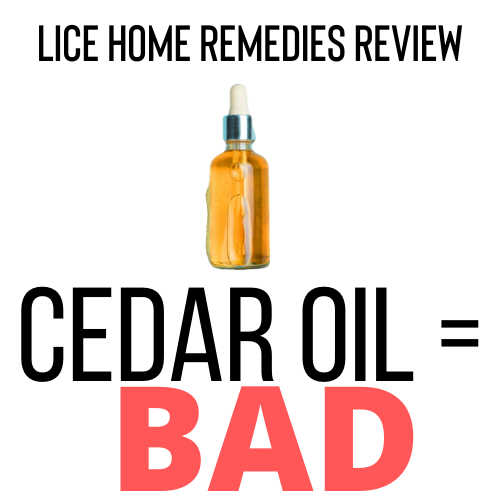 Cedar = Bad
Some out there claim cedar oil is a lice killer. A study comparing different plants shows that cedar does not have any effect on head lice whatsoever.
Dangerous Home Remedies- DON'T DO THESE!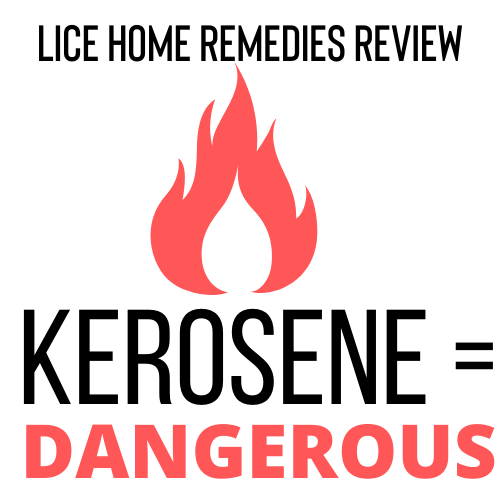 Kerosene, Gasoline, or Petrol = DANGEROUS
All these extremely flammable compounds have the "potential" to kill lice. However, these are horribly dangerous home remedies. I have seen the effects of these home remedies firsthand on some of my clients.
A desperate mother soaked her child's hair in kerosene multiple times in an attempt to get rid of head lice. Not only did the kerosene not cure the child's head lice, but it also burned her scalp terribly. When I was called in to help this little girl after the kerosene treatments, her scalp was coming off in large chunks and she still had a full head of lice.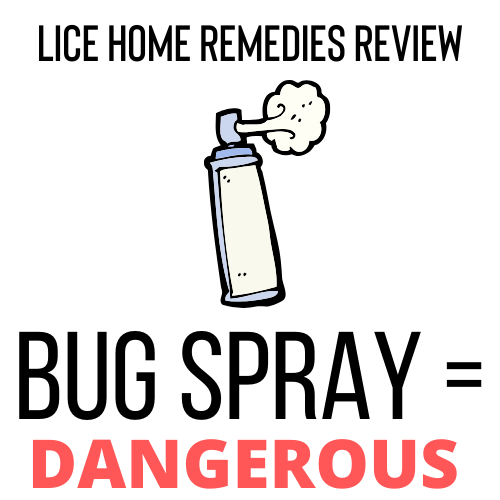 Raid or Other Bug Sprays = DANGEROUS
All Raid sprays are made up of similar pesticides as those found in traditional over-the-counter lice treatments. Lice have grown resistant to all of those pesticide treatments, so they will not get you any closer to getting rid of head lice.
Additionally, spraying Raid or another bug spray directly on your child is very dangerous. Side effects of using these types of sprays on the scalp or skin are burns, poisoning, and severe respiratory problems related to inhaling the pesticide. I have seen this firsthand in my profession as well.
In Summary
If you've made it to the end of this VERY long article, you must be serious about never using a lice treatment again. So am I! Throw all your old lice treatments in the trash because they are useless. Your two options are a 3 week regime with one of the home remedies I recommend, or you can get rid of lice in one day using my technique.

Here's a list of all of the home remedies: the good the bad and the dangerous
Home Remedies for Lice
The Good:
The Bad/Debunked
Vinegar

Listerine Mouthwash

Mayonnaise

Olive Oil

Flat Ironing

Vaseline

Neem Oil

Cetaphil Cleanser

Hair Dye

Hair Bleach

Cutting Your Hair

Shaving Your Head

Salt or Salt Water

Baking Soda

Chlorine

Drowning Lice

Rubbing alcohol

Hand Sanitizer

Dandruff Shampoo: Selsun Blue, Head and Shoulders, Denorex, T-gel

Beer, Wine, or Vodka

Lavender

Butter

Peanut Butter

Garlic/Garlic Oil

Cedar Oil

Hair Gel

Combing with Rubbing Alcohol
The Dangerous
Raid Bug Spray

Kerosene

Gasoline/Petrol